Posts for: July, 2017
By Young Dentistry, PC
July 19, 2017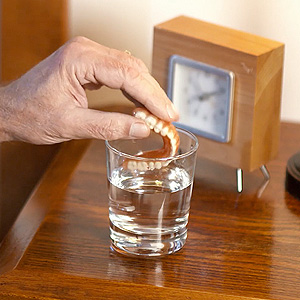 Dentures can be an effective and affordable solution for people who've lost all their teeth. With them a person can once again eat nutritiously, speak clearly and smile confidently — and with regular care they can last for years.
As part of that ongoing care, be sure you consider one important thing with your dentures: you may want to take them out at night while you sleep. If you do you'll lessen your chances of developing these 4 health problems.
Accelerated bone loss. Traditional dentures are fitted to rest securely on the gums. This, however, creates pressure on the gums and the bony ridges beneath them that can contribute to bone loss. Wearing dentures around the clock usually accelerates this process, which could eventually lead to among other problems looser denture fit and discomfort.
Bacterial and fungal growth. Microorganisms that cause oral diseases find conducive breeding spots on the underside of dentures while they're worn in the mouth. Studies have found that people who continuously wear their dentures are more likely to have bacterial plaque and oral yeast than those that don't.
Potentially dangerous infections. Bacterial and fungal growth increases your risk of oral infections that could affect more than your mouth. A recent study of elderly nursing home residents found those who wore their dentures during sleep were over twice as likely to develop serious cases of pneumonia requiring hospitalization. It's believed bacteria harbored on the dentures can pass from the mouth to the lungs as a person breathes over them while they sleep.
Blocked salivary flow. During the night our salivary flow naturally ebbs; wearing dentures while we sleep could cause denture stomatitis, in which the tissues covered by a denture (particularly along the roof of the mouth) become inflamed and infected with yeast. It's often accompanied by angular cheilitis or cracking at the corners of the mouth that becomes infected by the same yeast.
Wearing your dentures while you sleep contributes to conditions ranging from irritating to life-threatening. To prevent such problems clean your dentures as well as the rest of your mouth regularly — and talk to your dentist whether you should leave them out when you go to bed.
If you would like more information on denture care, please contact us or schedule an appointment for a consultation. You can also learn more about this topic by reading the Dear Doctor magazine article "Sleeping in Dentures."
By Young Dentistry, PC
July 04, 2017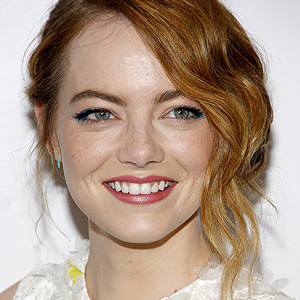 It's no secret that many of Hollywood's brightest stars didn't start out with perfectly aligned, pearly-white teeth. And these days, plenty of celebs are willing to share their stories, showing how dentists help those megawatt smiles shine. In a recent interview with W magazine, Emma Stone, the stunning 28-year-old star of critically-acclaimed films like La La Land and Birdman, explained how orthodontic appliances helped her overcome problems caused by a harmful habit: persistent thumb sucking in childhood.
"I sucked my thumb until I was 11 years old," she admitted, mischievously adding "It's still so soothing to do it." Although it may have been comforting, the habit spelled trouble for her bite. "The roof of my mouth is so high-pitched that I had this huge overbite," she said. "I got this gate when I was in second grade… I had braces, and then they put a gate."
While her technical terminology isn't quite accurate, Stone is referring to a type of appliance worn in the mouth which dentists call a "tongue crib" or "thumb/finger appliance." The purpose of these devices is to stop children from engaging in "parafunctional habits" — that is, behaviors like thumb sucking or tongue thrusting, which are unrelated to the normal function of the mouth and can cause serious bite problems. (Other parafunctional habits include nail biting, pencil chewing and teeth grinding.)
When kids develop the habit of regularly pushing the tongue against the front teeth (tongue thrusting) or sucking on an object placed inside the mouth (thumb sucking), the behavior can cause the front teeth to be pushed out of alignment. When the top teeth move forward, the condition is commonly referred to as an overbite. In some cases a more serious situation called an "open bite" may develop, which can be difficult to correct. Here, the top and bottom front teeth do not meet or overlap when the mouth is closed; instead, a vertical gap is left in between.
Orthodontic appliances are often recommended to stop harmful oral habits from causing further misalignment. Most appliances are designed with a block (or gate) that prevents the tongue or finger from pushing on the teeth; this is what the actress mentioned. Normally, when the appliance is worn for a period of months it can be expected to modify the child's behavior. Once the habit has been broken, other appliances like traditional braces or clear aligners can be used to bring the teeth into better alignment.
But in Stone's case, things didn't go so smoothly. "I'd take the gate down and suck my thumb underneath the mouth appliance," she admitted, "because I was totally ignoring the rule to not suck your thumb while you're trying to straighten out your teeth." That rule-breaking ended up costing the aspiring star lots of time: she spent a total of 7 years wearing braces.
Fortunately, things worked out for the best for Emma Stone: She now has a brilliant smile and a stellar career — plus a shiny new Golden Globe award! Does your child have a thumb sucking problem or another harmful oral habit? For more information about how to correct it, please contact us or schedule an appointment for a consultation. You can learn more in the Dear Doctor magazine article "How Thumb Sucking Affects the Bite."