Posts for tag: bonded retainer
By Young Dentistry, PC
February 13, 2019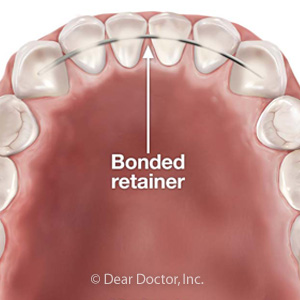 The braces are finally off! But to keep your new, straighter smile you'll need to wear a retainer for some time. That's because the same structural mechanism used to move your teeth could undo what we've just accomplished.
That mechanism resides in an elastic tissue called the periodontal ligament that lies between the teeth and the bone and attaches to both with tiny fibers. While the ligament holds the teeth securely in place, it also allows for slight movement in response to bite changes. Braces "pull" the teeth in the desired new direction, and the ligament responds.
But with that pressure gone after the braces' removal, a kind of "muscle memory" can set in that moves the teeth back towards their original positions. A retainer, a dental appliance worn on the teeth, exerts just enough pressure to "retain" or keep the teeth from regressing.
Retainers are effective, but the most common type has a feature that poses potential problems: it can be removed by the wearer. Because of this, less disciplined patients might be tempted not to wear their retainer as directed. There's also a higher risk of losing one and incurring additional cost to replace it.
But there is another type, the bonded retainer, which stays permanently in the mouth until removed by an orthodontist. It's composed of a thin piece of metal that's firmly attached to the back of the teeth with dental composite material. Not only does a bonded retainer solve the problems mentioned before, it also can't be seen from the outside like a removable retainer.
A bonded retainer does have one disadvantage: because it can't be removed, it can obstruct the teeth during brushing and flossing and require more effort. You won't have as much difficulty with a removable retainer keeping teeth and gums clean. You can overcome this disadvantage, though, with specialized tools like a water flosser or a floss threader to make hygiene easier.
To choose which type of retainer is best for you or your family member, have a talk with your orthodontist. And if you choose a bonded retainer and later have it removed, be sure to switch immediately to a removable one if your orthodontist advises. With either retainer, you'll be able to preserve that hard-earned smile for years to come.
If you would like more information on bonded retainers, please contact us or schedule an appointment for a consultation. You can also learn more about this topic by reading the Dear Doctor magazine article "Bonded Retainers: What are the Pros and Cons."
By Young Dentistry, PC
June 19, 2017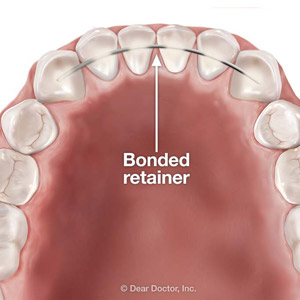 If you've known anyone who has worn braces, you know what comes after — wearing a retainer. This can be kind of a letdown after all those months with braces, but it's absolutely necessary.
That's because teeth have a tendency to "rebound" to their pre-orthodontic positions once the force to move them stops after the braces are removed. Retainers help keep or "retain" moved teeth in their new positions and prevent them from reverting to the old.
When you think "retainer," you probably picture a removable appliance with a wire that fits over the front of the teeth. While that may be the most common type, it isn't the only one. There's another called a bonded retainer, a thin piece of wire bonded to the back of the teeth that need to be retained. Unlike the other type, a dentist must remove a bonded retainer when it's no longer needed.
The biggest advantage of a bonded retainer is its invisibility — the wire is behind the teeth so no one can see it as with a removable retainer. The wire is bonded to the teeth with a dental composite material and then light-cured to create a strong attachment.
Another advantage is especially pertinent to younger patients. Because it's permanently attached and can't be taken out, there's no constant reminding of the patient to wear it — and no more worries about replacing a lost one.
They can, though, be difficult to floss around leading to potential plaque buildup that increases disease risk. It's very important you receive proper hygiene instruction for cleaning under the bonded retainer. Another concern is that they can break under excessive chewing pressure. And as with the more common retainer, we wouldn't want to remove it as that will result in the teeth's relapse to their old positions.
To learn which retainer is best for your situation, you should discuss the options with your orthodontist. Regardless of which type you choose, though, a retainer is a must for protecting your investment in that new smile.
If you would like more information on orthodontics and retainers, please contact us or schedule an appointment for a consultation. You can also learn more about this topic by reading the Dear Doctor magazine article "Bonded Retainers."